The Revenant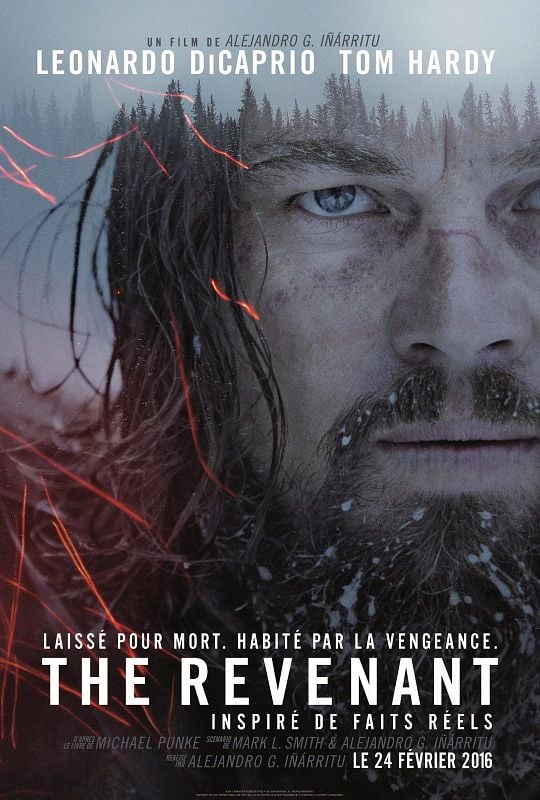 Origine :
U.S.A.
Réalisateur :
Alejandro González Iñárritu
Acteurs :
Leonardo DiCaprio, Tom Hardy, Domhnall Gleeson, Will Poulter, Paul Anderson
Genre :
Western, Aventure
Durée :
2h 36min
Date de sortie :
24 Février 2016
Année de production :
2015
Titre original :
The Revenant
Critiques Spectateurs :
4.2
Critiques Presses :
3.8
Plus d'information sur allocine :
http://www.allocine.fr/film/fichefilm_gen_cfilm=182266.html
Bande annonce :
The Revenant Bande-annonce VF
Dans une Amérique profondément sauvage, Hugh Glass, un trappeur, est attaqué par un ours et grièvement blessé. Abandonné par ses équipiers, il est laissé pour mort. Mais Glass refuse de mourir. Seul, armé de sa volonté et porté par l'amour qu'il voue à sa femme et à leur fils, Glass entreprend un voyage de plus de 300 km dans un environnement hostile, sur la piste de l'homme qui l'a trahi. Sa soif de vengeance va se transformer en une lutte héroïque pour braver tous les obstacles, revenir chez lui et trouver la rédemption.
Qualité :
BDRIP
Format :
Avi
Langue :

Français
Codec vidéo :
XviD
Tailles des fichiers :
1 x 1400 Mo
Nom de la release :
The.Revenant.2015.FRENCH.BDRip.XViD-FUNKKY
Taille totale :
1400 Mo
http://uploaded.net/file/xjp8i8gu
http://rapidgator.net/file/df6abe40b5e428bd113fb067687efb89
http://turbobit.net/5uk8jq1l52xo.html
http://uptobox.com/wiih582o02b1
Mots clés:
Comments: 1