Barbie - Aventure dans les étoiles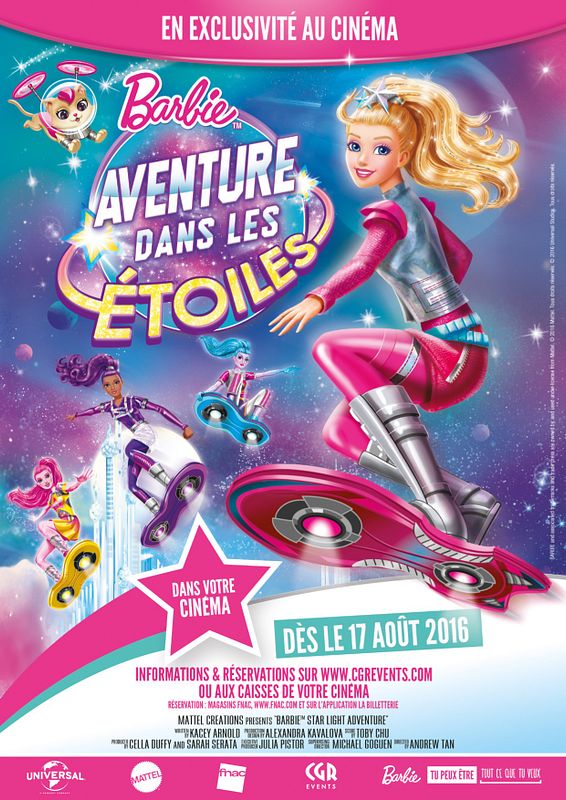 Genre :
Animation
Durée :
1h 20min
Date de sortie :
17 Août 2016
Année de production :
2016
Titre original :
Barbie - Aventure dans les étoiles
Critiques Spectateurs :
3.1
Plus d'information sur allocine :
http://www.allocine.fr/film/fichefilm_gen_cfilm=248998.html
Barbie™ sillonne le ciel sur son hoverboard avec son adorable animal Pupcorn. Un jour, elle s'aperçoit que les étoiles de la galaxie perdent de leur éclat et ralentissent leur danse dans le ciel. Bien qu'effrayée à l'idée de quitter sa planète, Barbie se rend sur Capital où elle rencontre Sal-lee, le meilleur surfeur d'hoverboard de toute la galaxy, et rejoint une équipe spéciale dont la mission est de sauver les étoiles. Barbie™ découvrira rapidement que si elle écoute son cœur et se fait aider de ses amis, elle pourrait être la sauveuse que la galaxie attend !
Copyright : BARBIE and associated trademarks and trade dress are owned by, and used under license from Mattel. © 2016 Mattel. Tous droits réservés.
Qualité :
BDRIP
Format :
Avi
Langue :

Français
Codec vidéo :
XviD
Nom de la release :
Barbie.Star.Light.Adventure.2016.FRENCH.BDRIP.Xvid.ACOOL
http://uploaded.net/file/attca28l
http://rapidgator.net/file/9f02ee580dd6544248fc656fd6a67a45
http://turbobit.net/kmst3je2oxc6.html
http://uptobox.com/bgth63aadoxw
Mots clés:
Comments: 0